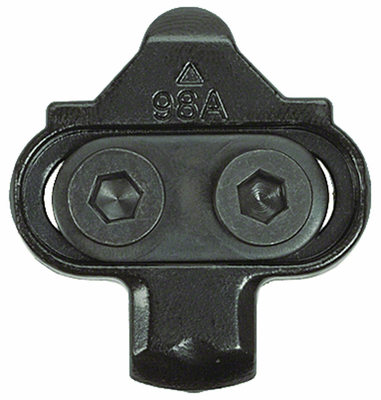 Wellgo Clipless Cleats for SPD Style pedals. - Four degrees of float - Includes four cleat mounting bolts, two cleat washers, and two cleats - 98A cleat is Shimano SH51 compatible - Not fully compatible with pedal types that use Shimano multi-release cleats - Packed in bag, not for retail display
- The ATAC 13/17° cleat works with all TIME mountain pedals. - Included with all mountain pedal models numbered "6" and higher - Release angles of 13 degrees or 17 degrees depending on how the cleat is set up on the shoe - Compatible with all two-hole cycling shoes.
- Developed for the TIME XPRO & XPRESSO road bike pedal range. - They allow angular and lateral freedom in order to respect the natural movements of your legs and joints. - You can also adjust the Q-factor (by switching the cleats) - The Bi-material brings more durability when walking with the cleats. - These cleats are the stock cleats included with all XPRO & XPRESSO pedals.